Heyas Chops!
1. On the news page, I see a link at the top that makes the page customizable. If I click on it, I dont see what is able to be customized.
Ahh...Fixed. The Customize option is now hidden from that particular layout. If you head to Admin > News, you can change the way the news page displays itself.
2. When editing the News section, the new Title Box that appears throws off the rest of the News Section. It will distort the remaining portion of the information that was typed.
I'm not sure I understand what you mean here.
3. When using the font size on a section of your post, it will not keep the highlighted section highlited. It will cut the highlighted section and only change a certain portion of your expected font size change.
Which browser are you experiencing this in?
4. Threads are really the same. I like the popups and new layout, but I expected to see a forums section with Catogories and possible sub catogories for posts. It really is not that much different.
Keep in mind the fundamentals didn't change. But Classic Mode is always availablem, and you can choose multiple display mechanisms: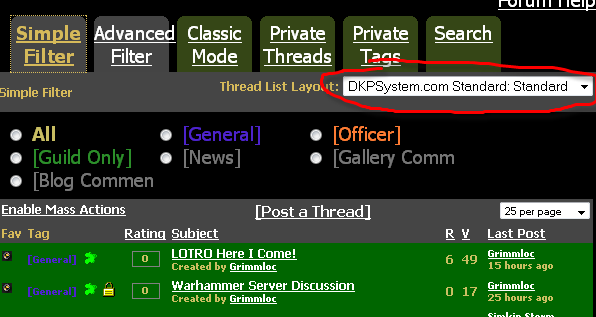 5. I was also hoping that the popular threads would have been changed to Recient posts. It is much easier to see what is new then just seeing the amount of posts on the thread.
This is going to be an option coming soon.

6. So what is the Welcome Message? I cant seem to find out where that even is.
The Welcome message will display on the other versions of the news page. At the top of the News admin page, you can choose a version of the news page to display. The current default is the original version that was simply "News Only". If you change it, though, you can change to one of the other options, which displays a number of neat displays on the home page.
Im sure there will be more, but frankly, even though most of the updates are good and needed, there is alot that makes me confused and does not focus on the sections that really needed to be focused on, like the forums.
I appreciate the feedback and naturally hope for more