Macsrule

Guild Operator
Poster's IP: Logged
Posts: 8
Threads: 5
Private Posts: 9


Markane

Guild Operator
Poster's IP: Logged
Posts: 87
Threads: 37
Private Posts: 6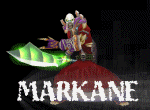 yeah, I'm having the same problem. Guild progression and Recruiting small icons are missing. I think the root directories changed or something simple like that. I got faith it won't stay like this for long though now that its been reported.
Check it out now, it should be good to go.



--
It's all in the reflexes.